Cane Jitsu Program Now Open for Signups!
The cane might look like a crutch, but at American Defensive Arts Academy, it's one of the most practical and tactical self-defense tools the martial arts have to offer. We're excited to offer the health and safety benefits of this Cane Jitsu program to the Keller community - including training for men and women recovering from a hip replacement or double hip replacement.
Sign up now to experience one of our most unique classes yet.
Why choose Cane Jitsu at American Defensive Arts Academy?
The use of a cane for martial arts training has particular benefits that go far beyond the gym. Students who enroll in the Cane Jitsu program enjoy several advantages:
Improved strength, balance, and confidence.
Mastery of an impact and leverage tool that can protect not only yourself, but others.
Increased safety and capability in places where many weapons (guns, knives) and self-defense tools (tasers, pepper spray) are banned, like airplanes government buildings, and entertainment events.
Advance Through All 4 Cane Jitsu Levels Right Here in Keller
Our Cane Jitsu curriculum is divided into several levels for students to study, build skill sets, and achieve a new standard of excellence. We offer all of the following levels at our Keller location:
Level One: Covers, Strikes, and Retention
Level Two: Joint Locks and Takedowns
Level Three: Ground and Seated Techniques
Level Four: Cane and Flashlight
PLUS, Cane Jitsu Is Perfect As An Everday Self-Defense Tool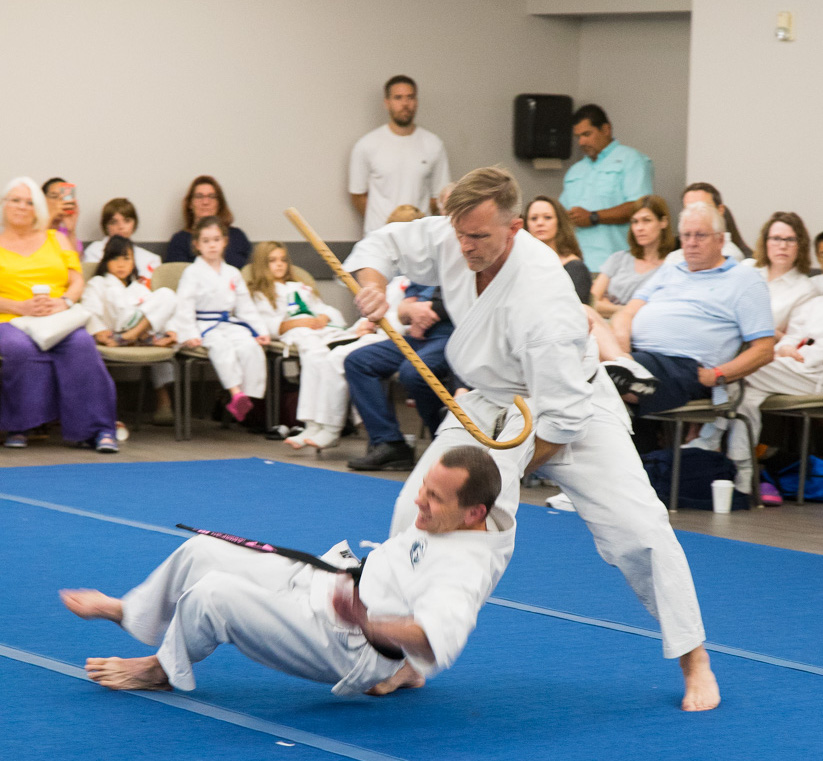 Every day carry (EDC) can be fully realized when using a cane for self defense and physical training as it can go to places that many weapons (guns, knives) and self-defense tools (tasers, pepper spray) cannot such as on airplanes, to government buildings, sporting, and entertainment events and many small business locations.
Sign Up Now to Learn from An Official Cane Jitsu Champion!
As a Canemasters International Association member, American Defensive Arts Academy owner and head instructor Christopher Folmar is dedicated to offering the highest quality Cane Jitsu instruction around. Folmar Sensei began studying the cane after being been diagnosed with severe osteoarthritis in his late 30's, and wanted to find ways to continue studying martial arts after having both hips replaced.
He has earned several weapon championships using the cane (not to mention his Black Belts in Hapkido, Tae Kwon Do, and Aikido and his achievement of 7th Dan in American Karate and the World Combat Association).
Don't miss this opportunity to learn from a true master. Fill out the short form on your screen to secure your spot today!